Enjoyed the world over, Café Au Lait ("Caf-A O lay") simply means "coffee with milk" in French. Easy to make – but difficult to master.  Because the term "coffee with milk" is so vague, there are many variations of Café Au Lait around the world. Lift up your loving cup with OG and follow these simple steps to make your very own ORGANO™ inspired Cafe Au Lait:
SELECT YOUR FAVORITE OG BREW: Choose Your Favorite ORGANO™ Gourmet Coffee Blend You'll want a bold, full-flavored gourmet blend to get your best results – might we suggest – of the these two hot new OG gourmet blends:
Te Amô Decaf Gourmet Blend – The Finest Decaf in a Single-Cup Serving:  Not everyone drinks coffee for the caffeine, and ORGANO™ understands the genuine lifetime love affair for the greatest drink on earth – coffee, and the option to have it caffeine free has arrived!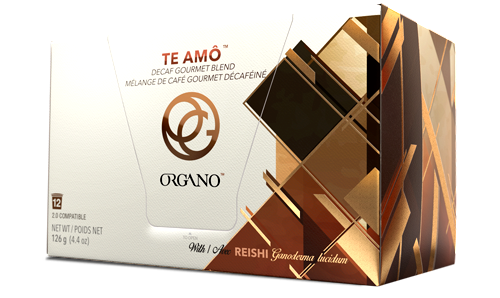 Colombian Roast Authentic Gourmet Coffee Blend – A Treasure to Behold: With an impressive and original blend, made from the finest Colombian coffee beans, our rich and robust Colombian Roast will make waking up the best part of your day.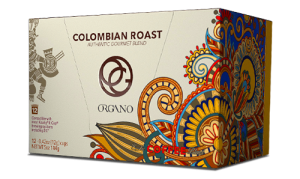 BREW IT UP STRONG & DREAMY: Brew up an extra strength cup of your selected OG Gourmet Blend, or Single Serve Brew Cup.  In order to avoid a weak coffee flavor, which may occur when the milk is added, you'll want to start with an extra strong brew. While some people may opt to use espresso, a cup of espresso and steamed milk is technically a Latté, not a Café Au Lait.
HEAT IT UP HOT & STEAMY: Place 1 cup whole milk in a saucepan and heat it up slowly, on low heat, until it is just beginning to bubble and is hot to the touch. Be careful not to foam the milk, just warm it up. It should not be bubbling. You can also use the steaming wand, which will heat the milk up without the chance of burning it. For the most authentic, rich Café Au Lait taste you can get – whole milk is recommended. And, while a traditional Café Au Lait has no foam, all milk drinks should be slightly foamed, as air bubbles improve the taste. You can achieve this by taking a whisk to the milk for 10-15 seconds before removing it from the heat – to get the best flavored drink!
MARRY THE TWO INTO YOUR LOVING CUP: Pour the hot milk and coffee into your cup simultaneously. You want equal parts of milk and coffee, and you want to avoid stirring it up (if possible) to reduce any foaming. While the ratios do not have to be exact, a Café Au Lait is supposed to be half milk, half coffee. Add more or less milk to get a weaker or stronger cup – respectively!
ENJOY AS A NIGHTACAP OR SWEET TREAT: Just by adding a dash of chocolate,1/4 tablespoon sugar and 1/2 tablespoon unsweetened cocoa powder (per mug) to your milk right before whisking. The result is a Mocha-Café Au Lait that is perfect as a nightcap, or even a fancy brunch. You can substitute 1 teaspoon vanilla extract for the cocoa powder – if your are the kind that likes to switch things up!
ORGANO™ – just like the traditional Café Au Lait – is known for its bold coffee flavors and smooth taste, making it a fantastic drink morning, afternoon, or night. In honor of our beloved Cafe Au Lait, we lift up our loving cup in your honor today! #TasteTheGold
Sources:
http://www.organogold.com
http://www.wikihow.com/Make-a-Cafe-Au-Lait