Today is National Coffee Cake Day – but don't be fooled by its name, as the traditional coffee cake does not contain coffee at all. The traditional coffee cake is served in tandem with a cup of coffee or tea, to enjoy as a morning wake-up call, an afternoon pick-me-up, or on a coffee table served to guests. But why is it called coffee cake if there is no coffee in the cake? Join ORGANO™ today, as we put the coffee back into the cake – literally!
It's Easy, It's Simple, It's ORGANO™… Let Them Eat Cake
The traditional coffee cake is a single layered pound cake made in a square, rectangle or ring-shaped pan and topped with a cinnamon crumb topping – but without coffee. Not only is it confusing that coffee cake is not flavored with coffee – many ORGANO™ coffee lovers would argue that coffee cake should be made with our coffee. After all, the rich, deep flavors of OG gourmet coffee blends go with so many other ingredients that truly compliment the cake bearing it's name. And, here are a couple simple ways to infuse a little OG into your coffee cake:
Batter Up with ORGANO™ Gourmet Coffee Blends
Perhaps the easiest way to get the OG coffee flavor into your cake is to add it directly into the coffee cake batter mix. By simply replacing 1/3 cup of your coffee cake batter mix with any one of your favorite (strongly brewed) OG gourmet blends, your cake will look, smell and taste more like coffee. And, by adding a bit of OG to the mix – your cake will take on a deliciously moist and dense "pudding-like" texture.
A Trilogy of Chocolate, Coffee & Cake – The ORGANO™ Mocha Swirl
Chocolate and coffee are always a good combination, but combine them both with cake and you will have the ultimate decadent and indulgent dessert. Simply mix together 1/3 cup of melted semisweet chocolate, 1/4 cup of melted butter, and 1/3 cup of ORGANO™ Gourmet Café Mocha (brewed strong), then swirl it into your cake mix batter before baking to create dark mocha swirls in the cake.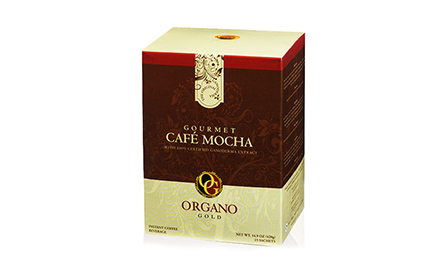 Decadent and delicious go hand-in-hand with this luxurious drink. Blending our quality ORGANO™ coffee with the finest cocoa and our renowned Ganoderma, ORGANO™ Gourmet Café Mocha offers the rich, cocoa-tinged coffee flavor you would expect from a fine mocha.
And, to top it all off – coffee cake is always better packed with a warm and crunchy crumb topping. So, for the ultimate OG coffee lover – sprinkle any one of your favorite OG coffee sachets into your crumb mixture for a kick of caffeine and a hint of Ganoderma Lucidum in every bite. And, no better way to enjoy your coffee cake than with a heaping hot cup of ORGANO™ – the "dessert in a cup" that can be enjoyed anytime, anywhere! #TasteTheGold